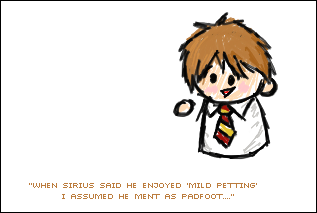 *
And boy was poor Lupin wrong. Not that he minded....
PotterCon's Back and it's better than ever... For
christmas
this year! Jeez, it's been what? A year? But since I am a senior this year, and all my college stuff is done I have a feeling that I may have a lot of spare time and would like to get this started back up again!
FIRST
matter of buisness is I'll probably have two set days a week for comics... but right about now I have no idea when those days'll be.
SECOND
matter of buisness is do you like the new style? I got a Tablet for my birthday so I've began using it. I like how the characters come out better... but the Icons? Yes/No?
THIRD
matter of buisness is bare with me as I start to get this off the ground :)
I hope you all like the changes, and there should be more in store soon!
Remus Lupin:




Hope you all enjoy!
-Heather
*Gah! "Meant" not "ment"... my spelling is still as wonderful as ever.
Current Mood: accomplished