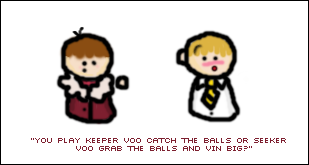 And Cedric simply stood there, a tad flustered as to what Viktor was saying, or perhaps implying. The Language barrier only made the sex hotter anyway.
Sigh, poor Viktor, he had no idea what he was doing to poor Cedric. And this comic is dedacated too my girlfriend who wanted me to write a C/V story and I said it would be chock full of creepyness like this :)
I'm so sorry for the lack of updates, but somehow the end of second term sneaks up on you like you wouldn't belive and I have about three or four finals to cram for an a math grade I have to pull up to a C somehow. god. However, I made a little something to posibly make up for the lack, maybe?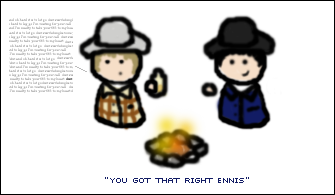 Ennis is like Chewbacca; only Jack can understand him.
was it just me or was that movie really straight? Sigh. whatever I suppose. I hope everyone's doing well. Brokeback and Harry Potter Icons under the cut. No Spoilers once again.
Cedric Diggory:






Viktor Krum:




Cedric/Viktor:





Brokeback Mountain:












Hope everything is amazing!
Current Music: Ride - the Vines